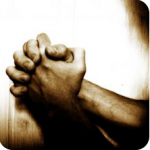 Prayer is one of the main core values of The Way of the Cross Church of Christ. Being a core value of this ministry means we place great emphasis on Prayer and the impact it has in ones life spiritually, emotionally, and psychologically!
We recognize that Prayer is:
The practice of the presence of God.
The place where pride is abandoned, hope is lifted, and supplication is made.
The place of admitting our need, of adopting humility, and claiming dependence upon God.
The needful practice of the Christian.
The exercise of faith and hope.
The privilege of touching the heart of Jesus Christ.
Our Prayer Schedule:
Tuesday nights at the church @ 7:00 PM
Unity Prayer
Sunday through Saturday @ 10:00 PM daily
Phone: 218.339.0607 Code: 925326
Monday, Wednesday, and Friday @ 5:00 AM
Phone: 218.339.0607 Code: 925326
Monday through Friday @ 12:00 PM
Phone: 712.770.4160 Code: 221915
Draw near to God and He will draw near to you. James 4:8
Be anxious for nothing, but in everything by prayer and supplication with thanksgiving let your requests be made known to God. And the peace of God, which surpasses all comprehension, shall guard your hearts and your minds in Christ Jesus. Phil. 4:6-7