Bishop Alphonzo D. Brooks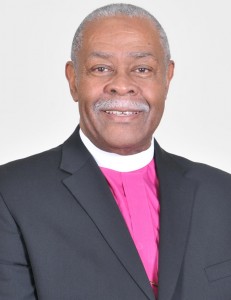 Alphonzo D. Brooks is the youngest of twelve children born to Henry C. and Willie S. Brooks, founders of The Way of the Cross Church of Christ in Washington, D.C. He was reared in the house of the Lord, where he was baptized in the name of Jesus Christ and received the gift of the Holy Ghost. At a young age he was taught the importance of having a servant's heart, and faithfully attended worship services, weekly Bible classes, Sunday school and youth activities, sang with various choirs and groups, and served as an usher.
Alphonzo attended the public schools of the District of Columbia, and matriculated in undergraduate studies at the Hampton Institute in Hampton, Virginia, and Virginia Union in Richmond. He later received a Doctorate in Biblical Studies. Demonstrating loyalty to both God and country, he enlisted in the United States Army where he served as a paratrooper. He married the former Miss Helen Price, also of the District of Columbia; and they are the parents of five children – Denice, Clifton (deceased), James (deceased), Jean and Alphonzo, Jr., and have welcomed numerous foster children into their home.
In October 1967, Alphonzo accepted God's call to ministry and several years later was ordained an Elder. God increased his borders and in 1972, he was appointed Assistant Pastor. Upon the retirement of then Pastor John L. Brooks in 1978, Elder Brooks was anointed Pastor of the church his father and mother had helped to found.
Through the years, Pastor Brooks has held many noteworthy positions in The Way of the Cross Church, International, including President of the National Youth for Christ, Chairman of the National Board of Trustees, and Chairman of the Pastoral Council, and 1st Vice Presiding Bishop. He currently serves as Presiding Bishop of The Way of the Cross Church, International. Pastor Brooks also holds the position titled "The Visionary" of the Apostolic Pentecostal Fellowship since its conception in 2015.
In the Nation's capital and around the globe, Bishop Brooks is highly respected and admired for the wisdom God has given him. His ministry has been blessed to flourish, for he is the spiritual father of churches throughout the East Coast, Alaska and the African Continent.
He is greatly respected and loved as an under-shepherd whom God has chosen to lead His people and, through the power of the Holy Spirit, he continues to preach and teach the unadulterated, life-transforming gospel of Jesus Christ.