[vc_row][vc_column][vc_column_text]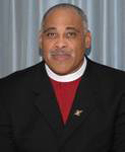 Assistant Pastor
Elder Henry Chauncey Brooks Lancaster
Trust in the Lord with all thine heart; and lean not unto thine own understanding. In all thy ways acknowledge him, and he shall direct thy paths. Proverbs 3:5-6
Elder Henry Chauncey Brooks Lancaster is the Assistant Pastor at The Way of The Cross Church of Christ (WOTCC).   He has made unparalleled accomplishments within the Way of the Cross Church, locally, nationally and internationally. He has successfully bridge the gap between the WOTCC and several churches in Monrovia Liberia West Africa and its surrounding community. While working diligently to nurture the churches in West Africa, he still has time to oversee the daily responsibilities that comes with the title of Assistant Pastor of WOTCC Mother church.
Elder Lancaster is the oldest child of Evangelist Ruth B. Lancaster and the late Walter T. Lancaster, Sr.  He has been a member of the WOTCC his entire life.  For over twenty-seven years, he has been married to Dorothy M. Lancaster and is the proud father of four children and six grandchildren.
Elder Lancaster is very diverse in his skills, knowledge and talents.  He served several years in the United States Armed Forces and retired from Washington Metropolitan Police Department after twenty-seven years of service.  He has held numerous positions in the local and national WOTCC from local Youth for Christ President, Chairman of the deacon board, choir director, National Youth for Christ Advisor Board, Chairman WOTCC Convention Housing and Director of Foreign Ministry.
"I am honored to be a part of this great family and pleased to be named after the founder, Bishop Henry Chauncey Brooks.  I congratulate the WOTCC for spreading God's word for 84 years."[/vc_column_text][/vc_column][/vc_row][vc_row][vc_column][vc_separator][/vc_column][/vc_row]